---
NCh. Zenya Akim al Qismat+/
virtuaalihevonen - sim-game-horse
2017 Russian arabian stallion
, bay 156cm
Born 18.04.2017, turns 3yo 10/17, now at age
Registered at VRL -
VH17-003-0121
Bred by TK,
al Qismat Arabians
Owned by Shannon. (VRL-05645), Majorithy Arabians
Competing in show jumping, 90cm
AHAC points 589, Legion of Supreme Honor
ASSA points 691, National Champion
VSN points 10, no merits so far
"This handsome dark stallion will be the base of our russian arabian breeding. We are hoping great success for him at showing and competing."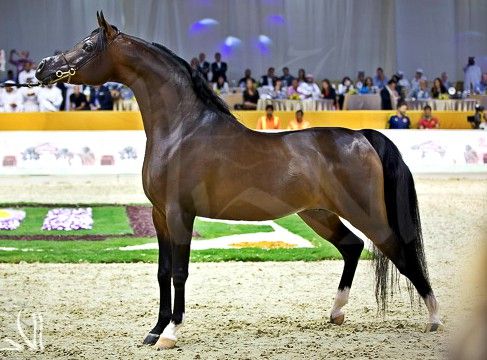 sire RW' Ripcord
bay sra, 152cm
Polnaja Kroci
chestnut sra, 152cm, YLA-3
Ajde Kroci
bay sra, 155cm
Polnaja Luna
bay sra, 151cm
JL Dreamcatcher
chestnut sra, 150cm
Abakum Viktor+
Before The Morning Sun
chestnut sra, 154cm
dam Operetka al Najya
grey sra, 151cm
Trebislaw al Najya
sra, 153cm
Topol
sra, 154cm
Triomf
KS Olivia
sra, 152cm
Kazzick
Othello

Breeding info
Zenya ei ole vielä tarjolla jalostukseen.
Zenya is not available for breeding yet.
Progeny;
-
Show Records
VSN 15.12.2017
Adina
, Arabiorit, tuom. Nintsu, 2/9, (4+5+4+5+4+4½+4+4+3+2½=40),
RCH
AHAC Records
Total points: 130
Championships: 1, Reserve Championships: 3, Top Tens: 11
AHAC profile
AHAC, 2017-10-01, 2017 AHAC Saint-Tropez Arabian Cup, Yearling Colts, TT, 9
AHAC, 2017-10-01, 2017 AHAC Saint-Tropez Arabian Cup, Classic Head Colts, CH, 15
AHAC, 2017-10-01, 2017 AHAC US Sport Horse Nationals, Yearling Colts, RCH, 10
AHAC, 2017-11-01, 2017 AHAC Dutch National Championships, Western Pleasure Prospect, TT, 8
AHAC, 2017-11-01, 2017 AHAC Egypt International, Western Pleasure Prospect, TT, 9
AHAC, 2017-11-01, 2017 AHAC European Championships Verona, Yearling Colts, RCH, 10
AHAC, 2017-11-01, 2017 AHAC European Championships Verona, Western Pleasure Prospect, TT, 8
AHAC, 2017-11-01, 2017 AHAC Region 15 Championships, Yearling Colts, TT, 5
AHAC, 2017-11-01, 2017 AHAC Region 16 Championships, Most Classic Colt, TT, 5
AHAC, 2017-11-01, 2017 AHAC Region 16 Championships, Western Pleasure Prospect, TT, 5
AHAC, 2017-12-01, 2017 AHAC Salon Du Cheval, Classic Head Colts, TT, 9
AHAC, 2017-12-01, 2017 AHAC Sharjah, Liberty Colt, TT, 8
AHAC, 2017-12-01, 2017 AHAC UK International Arabian Horse Show, Yearling Colts, TT, 9
AHAC, 2017-12-01, 2017 AHAC UK International Arabian Horse Show, Most Classic Colt, RCH, 12
AHAC, 2017-12-01, 2017 AHAC Verona National Championships, Yearling Colts, TT, 8

ASSA Records
Total points: 105
Championships: 2, Reserve Championships: 6, Top Tens: 51
ASSA profile
2017-12-28 2017 ASSA New Year Vindhani Cup Arabian & Half-Arabian Yearling Colts Performance In-Hand TT 1
2017-12-28 2017 ASSA New Year Vindhani Cup Country Western Pleasure Prospect TT 1
2017-12-28 2017 ASSA New Year Vindhani Cup Western Versatility Prospect TT 1
2017-12-28 2017 ASSA New Year Vindhani Cup Arabian & Half-Arabian Yearling Colts Performance In-Hand CH 3
2017-12-28 2017 ASSA New Year Vindhani Cup Western Pleasure Prospect TT 1
2017-12-28 2017 ASSA New Year Vindhani Cup Arabian & Half-Arabian Yearling Colts Performance In-Hand TT 1
2017-12-28 2017 ASSA New Year Vindhani Cup Country Western Pleasure Prospect TT 1
2017-12-28 2017 ASSA New Year Vindhani Cup Western Versatility Pleasure Prospect TT 1
2017-12-21 Christmas Games I Arabian & Half-Arabian Yearling Colts Performance In-Hand TT 1
2017-12-21 Christmas Games I Western Versatility Pleasure Prospect TT 1
2017-12-21 Christmas Games II Arabian & Half-Arabian Yearling Colts Performance In-Hand TT 1
2017-12-21 Christmas Games II Country Western Pleasure Prospect TT 1
2017-12-21 Christmas Games II Western Versatility Prospect TT 1
2017-12-21 Christmas Games II Western Versatility Pleasure Prospect TT 1
2017-12-21 Christmas Games III Arabian & Half-Arabian Yearling Colts Performance In-Hand TT 1
2017-12-21 Christmas Games III Country Western Pleasure Prospect RCH 2
2017-12-21 Christmas Games III Western Versatility Prospect TT 1
2017-12-21 Christmas Games IV Country Western Pleasure Prospect TT 1
2017-12-21 Christmas Games IV Western Versatility Prospect TT 1
2017-12-01 2017 ASSA Charity Horse Show Arabian & Half-Arabian Yearling Colts Performance In-Hand TT 2
2017-12-01 2017 ASSA Charity Horse Show Western Versatility Prospect RCH 4
2017-12-01 2017 ASSA Charlotte Charity Horse Show Sidesaddle Prospect TT 2
2017-12-01 2017 ASSA Downeast Horse Congress Arabian & Half-Arabian Yearling Colts Performance In-Hand TT 2
2017-12-01 2017 ASSA Downeast Horse Congress Sidesaddle Prospect TT 2
2017-12-01 2017 ASSA Downeast Horse Congress Country Western Pleasure Prospect TT 2
2017-12-01 2017 ASSA Downeast Horse Congress Western Versatility Prospect RCH 4
2017-12-01 2017 ASSA Downeast Horse Congress Western Versatility Pleasure Prospect TT 2
2017-12-01 2017 ASSA Holiday Times Classic Arabian & Half-Arabian Yearling Colts Performance In-Hand RCH 4
2017-12-01 2017 ASSA Holiday Times Classic Country Western Pleasure Prospect TT 2
2017-12-01 2017 ASSA Holiday Times Classic Western Versatility Prospect CH 6
2017-12-01 2017 ASSA Jubilee Invitational Western Versatility Prospect TT 2
2017-12-01 2017 ASSA Jubilee Invitational Western Versatility Pleasure Prospect TT 2
2017-12-01 2017 ASSA Tanbark Cavalcade of Roses Western Pleasure Prospect TT 3
2017-12-01 2017 ASSA Tanbark Cavalcade of Roses Country Western Pleasure Prospect TT 3
2017-12-01 2017 ASSA Tanbark Cavalcade of Roses Western Versatility Pleasure Prospect TT 3
2017-12-01 2017 ASSA Twin Rivers Benefit Arabian & Half-Arabian Yearling Colts Performance In-Hand TT 3
2017-12-01 2017 ASSA Twin Rivers Benefit Western Versatility Pleasure Prospect TT 3
2017-12-01 2017 ASSA Year End Championships Arabian & Half-Arabian Yearling Colts Performance In-Hand TT 5
2017-12-01 2017 ASSA Year End Championships Country Western Pleasure Prospect TT 5
2017-11-21 Rain Games Arabian & Half-Arabian Yearling Colts Performance In-Hand TT 1
2017-11-21 Rain Games Country Western Pleasure Prospect TT 1
2017-11-21 Rain Games Arabian & Half-Arabian Yearling Colts Performance In-Hand TT 1
2017-11-21 Rain Games Country Western Pleasure Prospect TT 1
2017-11-21 Rain Games Western Versatility Prospect TT 1
2017-11-21 Rain Games Western Versatility Pleasure Prospect TT 1
2017-11-21 Rain Games Arabian & Half-Arabian Yearling Colts Performance In-Hand TT 1
2017-11-21 Rain Games Country Western Pleasure Prospect TT 1
2017-11-21 Rain Games Western Versatility Prospect TT 1
2017-11-21 Rain Games Western Versatility Pleasure Prospect TT 1
2017-10-21 Creepy Games I Arabian & Half-Arabian Yearling Colts Performance In-Hand TT 1
2017-10-21 Creepy Games I Western Versatility Pleasure Prospect TT 1
2017-10-21 Christmas Games II Arabian & Half-Arabian Yearling Colts Performance In-Hand TT 1
2017-10-21 Christmas Games II Country Western Pleasure Prospect TT 1
2017-10-21 Creepy Games III Arabian & Half-Arabian Yearling Colts Performance In-Hand TT 1
2017-10-21 Creepy Games III Country Western Pleasure Prospect TT 1
2017-10-21 Creepy Games III Western Versatility Prospect RCH 2
2017-10-21 Creepy Games III Western Versatility Pleasure Prospect TT 1
2017-10-21 Creepy Games IV Arabian & Half-Arabian Yearling Colts Performance In-Hand TT 1
2017-10-21 Creepy Games IV Country Western Pleasure Prospect RCH 2