---
KH Ruwa Sayyida++
virtuaalihevonen - sim-game-horse
2017 Straight egyptian mare
, black 150cm
Born 12.03.2017, turns 4yo 3/19, now at age

Registered at VRL -
VH17-003-0120
Bred by Sonja P,
Kultahuisku
Owned by Shannon. (VRL-05645), Majorithy Arabians
Competing at halter
AHAC points 420, Legion of Merit
ASSA points 143, no merits so far
"This beautiful young mare from al Rayad -homebred has really catched everyones eye. We expect a lot from her in the future."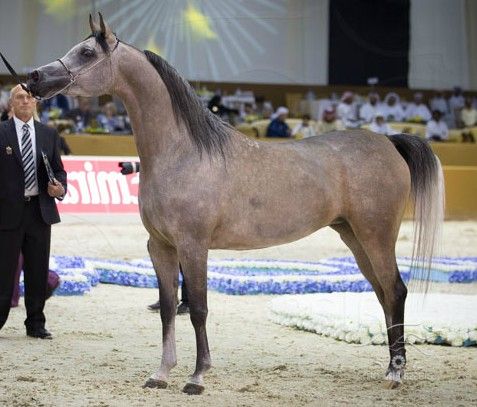 sire Rabah al Qismat
grey ppa, 150cm
W Nasr al Rafas
grey sea, 152cm
Naazik al Shaqab++++
grey sea, 154cm
Talibah Geshan
grey sea
Basha'ir al Qadir +/
grey sea, 148cm
Adya Shameel +/
grey sea, 158cm
Bahiyah SA +++
grey sea, 150cm
dam Afraa Bint Shai al Rayad++++
bay sea, 145cm
Akeem Wid++
bay sea, 146cm, ktk-III
Najib al Riad++
bay sea, 146cm
Altaf
bay sea, 143cm
VIR MVA Ch Ak Dabil Shai+
chestnut sea, 152cm, ktk-III
Ak Tal Shai+/
chestnut sea
Dabilla+
grey sea, 145cm

Breeding info
Ruwa hasn't been bred yet.
Progeny;
-
AHAC Records
Total points: 60
Championships: 2, Reserve Championships: 1, Top Tens: 4
AHAC profile
AHAC, 2017-10-01, 2017 AHAC Middle East Championships, Sporthorse Fillies In-Hand, TT, 8
AHAC, 2017-11-01, 2017 AHAC European Championships Verona, Dressage Prospect, TT, 8
AHAC, 2017-12-01, 2017 AHAC Region 17 Championships, Yearling Fillies, TT, 5
AHAC, 2017-12-01, 2017 AHAC Region 17 Championships, Most Classic Filly, RCH, 7
AHAC, 2017-12-01, 2017 AHAC Region 17 Championships, Liberty Filly, TT, 5
AHAC, 2017-12-01, 2017 AHAC Salon Du Cheval, Sporthorse Fillies In-Hand, CH, 15
AHAC, 2017-12-01, 2017 AHAC Verona National Championships, Dressage Prospect, CH, 12

ASSA Records
Total points: 41
Championships: 1, Reserve Championships: 3, Top Tens: 18
ASSA profile
2017-12-28 2017 ASSA New Year Vindhani Cup Carriage Pleasure Driving Prospect TT 1
2017-12-21 Christmas Games I Carriage Pleasure Driving Prospect TT 1
2017-12-21 Christmas Games II Arabian & Half-Arabian Yearling Fillies Performance In-Hand TT 1
2017-12-21 Christmas Games II Sidesaddle Prospect TT 1
2017-12-21 Christmas Games III Arabian & Half-Arabian Yearling Fillies Performance In-Hand TT 1
2017-12-21 Christmas Games III Carriage Pleasure Driving Prospect RCH 2
2017-12-21 Christmas Games IV Carriage Pleasure Driving Prospect TT 1
2017-12-01 2017 ASSA Charity Horse Show Arabian & Half-Arabian Yearling Fillies Performance In-Hand TT 2
2017-12-01 2017 ASSA Charity Horse Show Carriage Pleasure Driving Prospect TT 2
2017-12-01 2017 ASSA Charlotte Charity Horse Show Arabian & Half-Arabian Yearling Fillies Performance In-Hand RCH 4
2017-12-01 2017 ASSA Holiday Times Classic Arabian & Half-Arabian Yearling Fillies Performance In-Hand TT 2
2017-12-01 2017 ASSA Holiday Times Classic Carriage Pleasure Driving Prospect CH 6
2017-12-01 2017 ASSA Tanbark Cavalcade of Roses Arabian & Half-Arabian Yearling Fillies Performance In-Hand TT 3
2017-12-01 2017 ASSA Year End Championships Arabian & Half-Arabian Yearling Fillies Performance In-Hand TT 5
2017-11-21 Rain Games Arabian & Half-Arabian Yearling Fillies Performance In-Hand TT 1
2017-11-21 Rain Games Sidesaddle Prospect TT 1
2017-11-21 Rain Games Carriage Pleasure Driving Prospect RCH 2
2017-11-21 Rain Games Arabian & Half-Arabian Yearling Fillies Performance In-Hand TT 1
2017-10-21 Christmas Games II Arabian & Half-Arabian Yearling Fillies Performance In-Hand TT 1
2017-10-21 Christmas Games II Carriage Pleasure Driving Prospect TT 1
2017-10-21 Creepy Games IV Arabian & Half-Arabian Yearling Fillies Performance In-Hand TT 1
2017-10-21 Creepy Games IV Carriage Pleasure Driving Prospect TT 1