---
Joanka al Qismat++
virtuaalihevonen - sim-game-horse
2017 Polish arabian mare
, grey 149cm
Born 01.01.2017 turns 4yo 9/18, now at age

Registered at VRL,
VH17-003-0122
Bred by
al Qismat
, owned by Shannon. (VRL-05645)
Discipline dressage, Vaativa B
AHAC points 374, Legion of Merit
"This spicy little mare from Qismat Arabians is a dream come true and it has been waited for long time. We'll hope she grows beautiful and some day will be ready to continue her strain."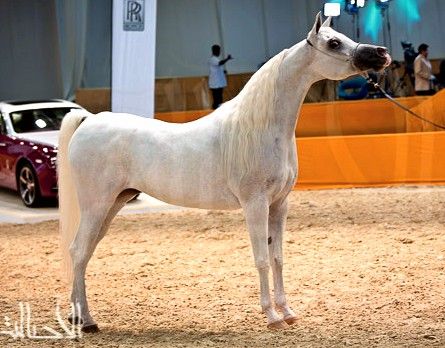 Breeding info
Joanka hasn't been bred yet.
Progeny;
-
Competing records
KRJ, sijoituksia 36, joista voittoja 6
26.03.2018 Moana part breds, Vaativa B, 5/30
30.03.2018 Moana part breds, Vaativa B, 2/40
01.04.2018 Runoratsut, Vaativa B, 4/50
01.04.2018 Runoratsut, Vaativa B, 5/50
01.04.2018 Runoratsut, Vaativa B, 4/50
03.04.2018 Ratsutalli Lilja, Vaativa B, 2/30
04.04.2018 Runoratsut, Vaativa B, 2/50
05.04.2018 Runoratsut, Vaativa B, 2/50
05.04.2018 Runoratsut, Vaativa B, 2/50
05.04.2018 Runoratsut, Vaativa B, 2/50
06.04.2018 Ratsutalli Lilja, Vaativa B, 6/30
07.04.2018 Runoratsut, Vaativa B, 7/50
08.04.2018 Kuurtola, Vaativa B, 5/30
11.04.2018 Priton Budyonnys, Vaativa B, 1/40
11.04.2018 Runoratsut, Vaativa B, 1/50
12.04.2018 Runoratsut, Vaativa B, 7/50
14.04.2018 Runoratsut, Vaativa B, 1/50
17.04.2018 Priton Budyonnys, Vaativa B, 6/40
23.04.2018 Runoratsut, Vaativa B, 5/40
24.04.2018 Runoratsut, Vaativa B, 4/40


26.04.2018 Runoratsut, Vaativa B, 4/40
28.04.2018 Brunnby, Vaativa B, 1/26
30.04.2018 Brunnby, Vaativa B, 2/26
30.04.2018 Runoratsut, Vaativa B, 5/40
03.05.2018 Brunnby, Vaativa B, 1/30
06.05.2018 Salpicar, Vaativa B, 3/30
08.05.2018 Salpicar, Vaativa B, 1/30
09.05.2018 Salpicar, Vaativa B, 2/30
11.05.2018 Salpicar, Vaativa B, 3/30
15.05.2018 Duren, Vaativa B, 5/30
16.05.2018 Duren, Vaativa B, 3/30
19.05.2018 Duren, Vaativa B, 5/30
22.05.2018 Salpicar, Vaativa B, 5/30
24.05.2018 Duren, Vaativa B, 5/30
28.05.2018 Salpicar, Vaativa B, 5/30
29.05.2018 Salpicar, Vaativa B, 5/30

AHAC Records
Total points: 93
Championships: 1, Reserve Championships: 2, Top Tens: 8
AHAC profile
AHAC, 2017-10-01, 2017 AHAC Saint-Tropez Arabian Cup, Yearling Fillies, TT, 9
AHAC, 2017-11-01, 2017 AHAC Egypt International, Dressage Prospect, TT, 9
AHAC, 2017-11-01, 2017 AHAC European Championships Verona, Yearling Fillies, TT, 8
AHAC, 2017-11-01, 2017 AHAC European Championships Verona, Sporthorse Fillies In-Hand, RCH, 10
AHAC, 2017-11-01, 2017 AHAC Region 16 Championships, Yearling Fillies, TT, 5
AHAC, 2017-12-01, 2017 AHAC Kuwait National Championships, Yearling Fillies, TT, 8
AHAC, 2017-12-01, 2017 AHAC Region 17 Championships, Dressage Prospect, CH, 9
AHAC, 2017-12-01, 2017 AHAC Region 17 Championships, Sporthorse Fillies In-Hand, TT, 5
AHAC, 2017-12-01, 2017 AHAC Salon Du Cheval, Dressage Prospect, TT, 9
AHAC, 2017-12-01, 2017 AHAC Salon Du Cheval, Sporthorse Fillies In-Hand, TT, 9
AHAC, 2017-12-01, 2017 AHAC UK International Arabian Horse Show, Sporthorse Fillies In-Hand, RCH, 12