---
KH Saif al-din
virtuaalihevonen - sim-game-horse
2016 Domestic arabian stallion
, grey 148cm
Born 14.10.2016, turns 3yo 4/18, now at age

Registered at VRL -
VH17-003-0118
Bred by Sonja P,
Kultahuisku
Owned by Shannon. (VRL-05645), Majorithy Arabians
Competing at halter, western pleasure
AHAC points 56, no merits so far
ASSA points 115, no merits so far
VSN points 10, no merits so far


"We are looking forward to see how Saif is going to turn out. He's a great addition to our domestic heard."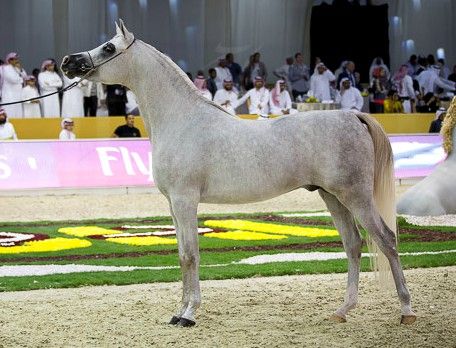 sire Shareef
grey sea, 157cm
Suoud
sea, rtkm
Thaysir
Sumnah
Zubaidah
sea, rnkm
Wadi
Yafiah
dam Djubka++
grey sra, 147cm
Djebbel
sra, bay
Saklawi
Dominika
Mashenka
sra, grey
Alhimik
Malinka

Breeding info
Saif on ainoastaan Majorithyn omassa jalostuskäytössä.
Saif is not available for public breeding.
Progeny;
-
Show Records
VSN 15.12.2017
Adina
, Arabiorit, tuom. Nintsu, 2/7, (4+5+4+4½+3+5+4+4+3+4=40,5),
RCH
AHAC Records
Total points: 56
Championships: 1, Reserve Championships: 0, Top Tens: 6
AHAC profile
KH Saif al-din, 2017 AHAC Norwegian National Championships, 2017-10-01, Two Year Old Colts, CH, 12, AHAC
KH Saif al-din, 2017 AHAC Region 14 Championships, 2017-10-01, Western Pleasure Prospect, TT, 5, AHAC
KH Saif al-din, 2017 AHAC Saint-Tropez Arabian Cup, 2017-10-01, Western Pleasure Prospect, TT, 9, AHAC
KH Saif al-din, 2017 AHAC Region 15 Championships, 2017-11-01, Liberty Colt, TT, 5, AHAC
AHAC, 2017-12-01, 2017 AHAC Kuwait National Championships, Western Pleasure Prospect, TT, 8
AHAC, 2017-12-01, 2017 AHAC Sharjah, Liberty Colt, TT, 8
AHAC, 2017-12-01, 2017 AHAC UK International Arabian Horse Show, Liberty Colt, TT, 9


ASSA Records
Total points: 115
Championships: 7, Reserve Championships: 6, Top Tens: 43
ASSA profile
2017-12-28 2017 ASSA New Year Vindhani Cup Country Western Pleasure Prospect TT 1
2017-12-28 2017 ASSA New Year Vindhani Cup Arabian & Half-Arabian Two Year Old Colts Performance In-Hand TT 1
2017-12-28 2017 ASSA New Year Vindhani Cup Western Pleasure Prospect RCH 2
2017-12-28 2017 ASSA New Year Vindhani Cup Country Western Pleasure Prospect TT 1
2017-12-28 2017 ASSA New Year Vindhani Cup Trail Prospect RCH 2
2017-12-28 2017 ASSA New Year Vindhani Cup Western Versatility Pleasure Prospect TT 1
2017-12-28 2017 ASSA New Year Vindhani Cup Western Versatility Pleasure Prospect TT 1
2017-12-21 Christmas Games I Arabian & Half-Arabian Two Year Old Colts Performance In-Hand TT 1
2017-12-21 Christmas Games II Western Pleasure Prospect RCH 2
2017-12-21 Christmas Games II Western Versatility Pleasure Prospect TT 1
2017-12-21 Christmas Games III Arabian & Half-Arabian Two Year Old Colts Performance In-Hand TT 1
2017-12-21 Christmas Games III Western Pleasure Prospect RCH 2
2017-12-21 Christmas Games III Western Versatility Pleasure Prospect TT 1
2017-12-21 Christmas Games IV Arabian & Half-Arabian Two Year Old Colts Performance In-Hand TT 1
2017-12-21 Christmas Games IV Country Western Pleasure Prospect TT 1
2017-12-21 Christmas Games IV Trail Prospect CH 3
2017-12-21 Christmas Games IV Western Versatility Pleasure Prospect TT 1
2017-12-01 2017 ASSA Charity Horse Show Western Pleasure Prospect CH 6
2017-12-01 2017 ASSA Charity Horse Show Country Western Pleasure Prospect TT 2
2017-12-01 2017 ASSA Charlotte Charity Horse Show Country Western Pleasure Prospect TT 2
2017-12-01 2017 ASSA Downeast Horse Congress Arabian & Half-Arabian Two Year Old Colts Performance In-Hand CH 6
2017-12-01 2017 ASSA Downeast Horse Congress Western Versatility Pleasure Prospect TT 2
2017-12-01 2017 ASSA Holiday Times Classic Arabian & Half-Arabian Two Year Old Colts Performance In-Hand TT 2
2017-12-01 2017 ASSA Holiday Times Classic Trail Prospect CH 6
2017-12-01 2017 ASSA Tanbark Cavalcade of Roses Arabian & Half-Arabian Two Year Old Colts Performance In-Hand TT 3
2017-12-01 2017 ASSA Tanbark Cavalcade of Roses Country Western Pleasure Prospect TT 3
2017-12-01 2017 ASSA Twin Rivers Benefit Arabian & Half-Arabian Two Year Old Colts Performance In-Hand TT 3
2017-12-01 2017 ASSA Twin Rivers Benefit Western Pleasure Prospect TT 3
2017-12-01 2017 ASSA Twin Rivers Benefit Western Versatility Pleasure Prospect TT 3
2017-12-01 2017 ASSA Year End Championships Arabian & Half-Arabian Two Year Old Colts Performance In-Hand TT 5
2017-12-01 2017 ASSA Year End Championships Western Pleasure Prospect TT 5
2017-12-01 2017 ASSA Year End Championships Country Western Pleasure Prospect TT 5
2017-12-01 2017 ASSA Year End Championships Trail Prospect TT 5
2017-11-21 Rain Games Arabian & Half-Arabian Two Year Old Colts Performance In-Hand RCH 2
2017-11-21 Rain Games Western Pleasure Prospect TT 1
2017-11-21 Rain Games Western Versatility Pleasure Prospect TT 1
2017-11-21 Rain Games Arabian & Half-Arabian Two Year Old Colts Performance In-Hand TT 1
2017-11-21 Rain Games Western Pleasure Prospect CH 3
2017-11-21 Rain Games Trail Prospect CH 3
2017-11-21 Rain Games Western Versatility Pleasure Prospect TT 1
2017-11-21 Rain Games Arabian & Half-Arabian Two Year Old Colts Performance In-Hand TT 1
2017-11-21 Rain Games Trail Prospect TT 1
2017-11-21 Rain Games Western Versatility Pleasure Prospect TT 1
2017-11-21 Rain Games Country Western Pleasure Prospect TT 1
2017-11-21 Rain Games Western Versatility Pleasure Prospect TT 1
2017-10-21 Creepy Games I Western Pleasure Prospect TT 1
2017-10-21 Creepy Games I Western Versatility Pleasure Prospect RCH 2
2017-10-21 Christmas Games II Sidesaddle Prospect TT 1
2017-10-21 Christmas Games II Western Versatility Pleasure Prospect TT 1
2017-10-21 Creepy Games III Western Pleasure Prospect CH 3
2017-10-21 Creepy Games III Country Western Pleasure Prospect TT 1
2017-10-21 Creepy Games III Trail Prospect TT 1
2017-10-21 Creepy Games IV Western Pleasure Prospect TT 1
2017-10-21 Creepy Games IV Country Western Pleasure Prospect TT 1
2017-10-21 Creepy Games IV Trail Prospect TT 1
2017-10-21 Creepy Games IV Western Versatility Pleasure Prospect TT 1