---
In'am Farrah MJA+
virtuaalihevonen - sim-game-horse
2014 Straight egyptian mare
, black 152cm
Born 14.9.2014, turned 4yo 6/16, now at age

Registered at VRL,
VH16-003-0085
Bred and owned by Shannon,
Majorithy Arabians
Dressage, western pleasure, trail
AHAC points 244, Legion of Honor
ASSA points 152, no merits so far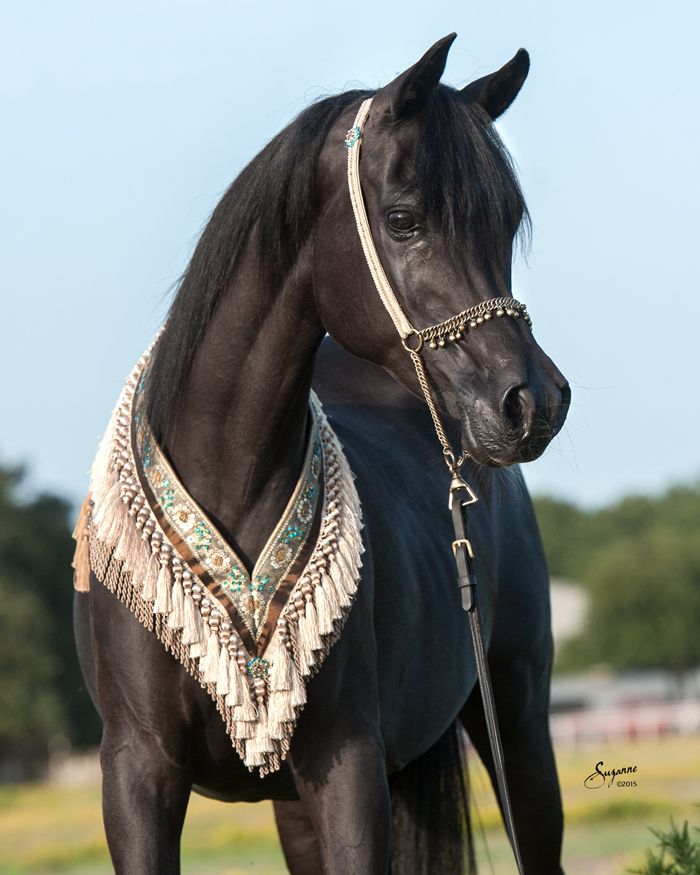 Farrah on kaunis nuori tamma oriista Farid Amal al Rayad+ ja se on Faridin ensimmäinen jälkeläinen ja parempaa varsaa olisinkin voinut vain toivoa. Farrahin takana yhdistyvät monet upeat hevoset, joten odotukset ovatkin korkealla. Tamma on herkkä, mutta hyväkäytöksinen ja osoittanut erinomaista kapasiteettia tuleville kilparadoille. Toivon mukaan Farrah tulee menestymään hyvin ja tulevaisuudessa myös jatkaa sukuaan tässä hienossa linjassa.
Breeding info
Farrah hasn't been bred yet.
Progeny
-

KRJ Records
Sijoituksia 22, joista voittoja 5
22.12.2017
Vindhani
, Helppo C,
1/6
02.01.2018
Leijonalaakso
, Helppo B,
3/40
02.01.2018
Vähäpelto
, Helppo A,
1/30
06.01.2018
Vähäpelto
, Helppo A,
2/30
09.01.2018
Priton Budyonnys
, Helppo A,
6/40
09.01.2018
Priton Budyonnys
, Helppo A,
5/40
09.01.2018
Priton Budyonnys
, Helppo A,
6/40
10.01.2018
Vähäpelto
, Helppo A,
5/30
12.01.2018
Vähäpelto
, Helppo A,
4/30
13.01.2018
Team J&K
, Helppo A,
5/40
15.01.2018
Team J&K
, Vaativa B,
4/40
18.01.2018
Team J&K
, Helppo A,
3/40
20.01.2018
Team J&K
, Vaativa B,
4/40
26.01.2018
Roscoff
, Helppo A,
6/50
30.01.2018
Roscoff
, Helppo A,
5/50
03.02.2018
Mörkövaara
, Helppo B,
1/30
05.02.2018
Mörkövaara
, Helppo B,
2/30
05.02.2018
Härdelli
, Helppo C,
1/30
06.02.1018
Mörkövaara
, Helppo B,
2/30
07.02.2018
Mörkövaara
, Helppo B,
1/30
08.02.2018
Mörkövaara
, Helppo B,
3/30
11.02.2018
Koistila
, Helppo B,
2/30
AHAC Records
Total points: 244
Championships: 0, Reserve Championships: 3, Top Tens: 28
AHAC profile
AHAC, 2016-02-19, AHAC Qatar International, Most Classic Filly, TT, 9
AHAC, 2016-03-26, AHAC Egyptian Event USA, Liberty Filly Futurity, TT, 8
AHAC, 2016-04-29, AHAC Egyptian Event, Filly Futurity, TT, 9
AHAC, 2016-04-29, AHAC Egyptian Event, Classic Head Fillies, TT, 9
AHAC, 2016-08-06, Czech National Championships, Liberty Filly Futurity, TT, 8
AHAC, 2016-08-06, Mooslargue, Most Classic Filly, TT, 9
AHAC, 2016-08-06, Danish National Championships, Filly Futurity, RCh, 10
AHAC, 2016-08-06, Danish National Championships, Liberty Filly Futurity, TT, 8
AHAC, 2017-10-01, 2017 AHAC Middle East Championships, Open Dressage Hack Junior Horse, TT, 8
AHAC, 2017-10-01, 2017 AHAC Middle East Championships, Introductory Dressage Test A, TT, 8
AHAC, 2017-10-01, 2017 AHAC Middle East Championships, Introductory Dressage Test B, TT, 8
AHAC, 2017-10-01, 2017 AHAC Middle East Championships, Sporthorse Junior Mares In-Hand, TT, 8
AHAC, 2017-10-01, 2017 AHAC Norwegian National Championships, Open Dressage Hack Junior Horse, TT, 8
AHAC, 2017-10-01, 2017 AHAC Region 13 Championships, Introductory Dressage Test B, TT, 5
AHAC, 2017-10-01, 2017 AHAC Region 14 Championships, Training Level Dressage Test A, RCH, 7
AHAC, 2017-10-01, 2017 AHAC Saint-Tropez Arabian Cup, Most Classic Junior Mare, TT, 9
AHAC, 2017-10-01, 2017 AHAC Saint-Tropez Arabian Cup, Training Level Dressage Test A, TT, 9
AHAC, 2017-10-01, 2017 AHAC US Sport Horse Nationals, Six Year Old Mares, TT, 8
AHAC, 2017-10-01, 2017 AHAC US Sport Horse Nationals, Open Dressage Hack Junior Horse, TT, 8
AHAC, 2017-11-01, 2017 AHAC Brazilian Nationals, Open Dressage Hack Junior Horse, TT, 8
AHAC, 2017-11-01, 2017 AHAC Egypt International, Open Dressage Seat Equitation Junior Horse, TT, 9
AHAC, 2017-11-01, 2017 AHAC Egypt International, Introductory Dressage Test B, TT, 9
AHAC, 2017-11-01, 2017 AHAC European Championships Verona, Classic Head Junior Mares, TT, 8
AHAC, 2017-11-01, 2017 AHAC Region 15 Championships, Liberty Junior Mare, RCH, 7
AHAC, 2017-11-01, 2017 AHAC Region 16 Championships, Introductory Dressage Test A, TT, 5
AHAC, 2017-12-01, 2017 AHAC Region 17 Championships, Introductory Dressage Test A, TT, 5
AHAC, 2017-12-01, 2017 AHAC Region 18 Championships, Open Dressage Hack Junior Horse, TT, 5
AHAC, 2017-12-01, 2017 AHAC Sharjah, Six Year Old Mares, TT, 8
AHAC, 2017-12-01, 2017 AHAC Sharjah, Training Level Dressage Test A, TT, 8
AHAC, 2017-12-01, 2017 AHAC Verona National Championships, Open Freestyle Dressage Junior Horse, TT, 8
AHAC, 2017-12-01, 2017 AHAC Verona National Championships, Introductory Dressage Test A, TT, 8

ASSA Records
Total points: 152
Championships: 6, Reserve Championships: 10, Top Tens: 60
ASSA profile
2017-12-28 2017 ASSA New Year Vindhani Cup Western Versatility Junior Horse TT 1
2017-12-28 2017 ASSA New Year Vindhani Cup Amateur Western Versatility TT 1
2017-12-28 2017 ASSA New Year Vindhani Cup Amateur Western Versatility Pleasure CH 3
2017-12-28 2017 ASSA New Year Vindhani Cup Amateur Trail TT 1
2017-12-28 2017 ASSA New Year Vindhani Cup Amateur Western Versatility TT 1
2017-12-28 2017 ASSA New Year Vindhani Cup Amateur Western Versatility Pleasure TT 1
2017-12-28 2017 ASSA New Year Vindhani Cup Amateur Trail TT 1
2017-12-28 2017 ASSA New Year Vindhani Cup Amateur Western Versatility TT 1
2017-12-28 2017 ASSA New Year Vindhani Cup Amateur Western Versatility Pleasure TT 1
2017-12-21 Christmas Games I Amateur Trail TT 1
2017-12-21 Christmas Games I Western Versatility Junior Horse RCH 2
2017-12-21 Christmas Games I Amateur Western Versatility TT 1
2017-12-21 Christmas Games I Amateur Western Versatility Pleasure TT 1
2017-12-21 Christmas Games II Western Versatility Junior Horse TT 1
2017-12-21 Christmas Games II Amateur Western Versatility CH 3
2017-12-21 Christmas Games II Amateur Western Versatility Pleasure TT 1
2017-12-21 Christmas Games III Amateur Trail RCH 2
2017-12-21 Christmas Games III Western Versatility Junior Horse TT 1
2017-12-21 Christmas Games III Amateur Western Versatility TT 1
2017-12-21 Christmas Games IV Amateur Trail TT 1
2017-12-21 Christmas Games IV Western Versatility Junior Horse RCH 2
2017-12-21 Christmas Games IV Amateur Western Versatility TT 1
2017-12-21 Christmas Games IV Amateur Western Versatility Pleasure RCH 2
2017-12-01 2017 ASSA Charity Horse Show Amateur Trail RCH 4
2017-12-01 2017 ASSA Charity Horse Show Amateur Western Versatility TT 2
2017-12-01 2017 ASSA Charity Horse Show Amateur Western Versatility Pleasure TT 2
2017-12-01 2017 ASSA Charlotte Charity Horse Show Amateur Trail TT 2
2017-12-01 2017 ASSA Charlotte Charity Horse Show Amateur Western Versatility TT 2
2017-12-01 2017 ASSA Charlotte Charity Horse Show Western Versatility Pleasure Junior Horse TT 2
2017-12-01 2017 ASSA Downeast Horse Congress Amateur Sidesaddle Equitation TT 2
2017-12-01 2017 ASSA Downeast Horse Congress Amateur Trail CH 6
2017-12-01 2017 ASSA Downeast Horse Congress Amateur Western Versatility RCH 4
2017-12-01 2017 ASSA Downeast Horse Congress Western Versatility Pleasure Junior Horse TT 2
2017-12-01 2017 ASSA Downeast Horse Congress Amateur Western Versatility Pleasure TT 2
2017-12-01 2017 ASSA Holiday Times Classic Amateur Western Versatility TT 2
2017-12-01 2017 ASSA Holiday Times Classic Western Versatility Pleasure Junior Horse TT 2
2017-12-01 2017 ASSA Holiday Times Classic Amateur Western Versatility Pleasure TT 2
2017-12-01 2017 ASSA Jubilee Invitational Amateur Western Versatility TT 2
2017-12-01 2017 ASSA Jubilee Invitational Western Versatility Pleasure Junior Horse TT 2
2017-12-01 2017 ASSA Tanbark Cavalcade of Roses Western Versatility Junior Horse TT 3
2017-12-01 2017 ASSA Tanbark Cavalcade of Roses Amateur Western Versatility TT 3
2017-12-01 2017 ASSA Tanbark Cavalcade of Roses Amateur Western Versatility Pleasure TT 3
2017-12-01 2017 ASSA Twin Rivers Benefit Arabian & Half-Arabian Junior Mares Performance In-Hand CH 8
2017-12-01 2017 ASSA Twin Rivers Benefit Amateur Trail CH 8
2017-12-01 2017 ASSA Twin Rivers Benefit Amateur Western Versatility TT 3
2017-12-01 2017 ASSA Twin Rivers Benefit Amateur Western Versatility Pleasure TT 3
2017-12-01 2017 ASSA Year End Championships Amateur Western Versatility TT 5
2017-12-01 2017 ASSA Year End Championships Western Versatility Pleasure Junior Horse TT 5
2017-12-01 2017 ASSA Year End Championships Amateur Western Versatility Pleasure RCH 8
2017-11-21 Rain Games Amateur Trail TT 1
2017-11-21 Rain Games Western Versatility Junior Horse TT 1
2017-11-21 Rain Games Amateur Western Versatility TT 1
2017-11-21 Rain Games Western Versatility Pleasure Junior Horse TT 1
2017-11-21 Rain Games Amateur Western Versatility Pleasure TT 1
2017-11-21 Rain Games Amateur Trail TT 1
2017-11-21 Rain Games Amateur Western Versatility TT 1
2017-11-21 Rain Games Amateur Western Versatility Pleasure TT 1
2017-11-21 Rain Games Amateur Western Versatility RCH 2
2017-11-21 Rain Games Western Versatility Pleasure Junior Horse TT 1
2017-11-21 Rain Games Amateur Western Versatility Pleasure TT 1
2017-11-21 Rain Games Western Versatility Junior Horse RCH 2
2017-11-21 Rain Games Amateur Western Versatility TT 1
2017-11-21 Rain Games Western Versatility Pleasure Junior Horse RCH 2
2017-11-21 Rain Games Amateur Western Versatility Pleasure TT 1
2017-10-21 Creepy Games I Amateur Trail TT 1
2017-10-21 Creepy Games I Amateur Western Versatility TT 1
2017-10-21 Creepy Games I Amateur Western Versatility Pleasure TT 1
2017-10-21 Christmas Games II Amateur Sidesaddle Equitation TT 1
2017-10-21 Christmas Games II Amateur Western Versatility TT 1
2017-10-21 Christmas Games II Amateur Western Versatility Pleasure CH 3
2017-10-21 Creepy Games III Amateur Trail TT 1
2017-10-21 Creepy Games III Western Versatility Junior Horse TT 1
2017-10-21 Creepy Games III Amateur Western Versatility TT 1
2017-10-21 Creepy Games IV Amateur Western Versatility TT 1
2017-10-21 Creepy Games IV Western Versatility Pleasure Junior Horse TT 1
2017-10-21 Creepy Games IV Amateur Western Versatility Pleasure TT 1